NAFA 2017 Region 5 MVP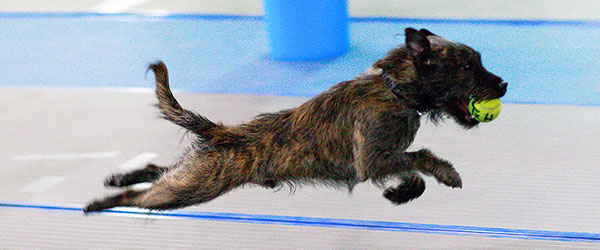 Brewski
CRN: 070627
Breed of Dog: Mix
Dog's Club Affiliaton: RUSH!
Owner of the Dog: Wendy Truelove
Nomination by Jennifer Steede
Blue Cedar's Strange Brew, "Brewski" All of us in NAFA Region 5 know and love Wendy Truelove's adorable little terrier mix, Brewski. And if you are lucky, you've had the opportunity to handle the little spitfire in the lanes! Brewski is the best little height dog - he will run for anyone, in any position. Brewski recently earned his Iron Dog title, and he's getting very close to his FGDCh 40K! He was also the height dog for Texas Heat's Division 4 championship team at CanAm in 2013. While training a terrier was, as Wendy puts it, "an interesting experience to say the least", Brewski is a solid, reliable flyball dog that is as cute as he professional in the lanes. He never gives less than his heart and soul while running flyball, and for this and the many other reasons mentioned, I'd like to nominate Brewski for NAFA Region 5's MVP for 2017. Please vote for him!
---
NAFA 2016 Region 5 MVP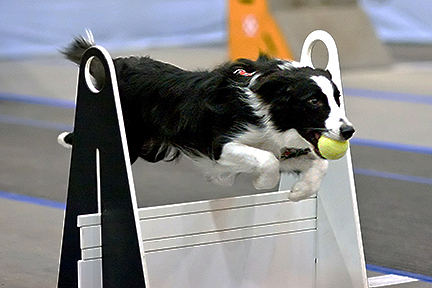 Hawkeye
CRN: 060551
Breed of Dog: Border Collie
Dog's Club Affiliaton: Alamo Racing Canines
Owner of the Dog: Jennifer Steede
Nomination by Ashley Stricklin:
I'm pretty sure everyone knows Jenn's pookie bear, Mr. Hawkeye Pierce. Either by his consistent and reliable speed, his loud bark letting everyone know he's ready to race, or that sweet face with kisses to give, Hawkeye is a memorable guy. Hawkeye Pierce is one of those tough as nails competitors.
He's been an integral part of ARC, BW (during Jenn's time in vet school), and back in the day, DR.
He's been that stalwart, never fail dog that runs for anyone in any position. Now, that doesn't mean he was easy to train! He taught Jenn many lessons about training a headstrong border collie that are invaluable to her and her many friends in the Flyball world. He has allowed many people the chance to become successful first time handlers and instilled a love of the sport in them.
Hawkeye has proudly earned his Onyx and Iron Dog titles and currently has over 41,000 points!
Hawkeye ran on many teams in Region 5 becoming a handler favorite and deserves the title of Region 5 MVP, so please vote for him!!
---
NAFA 2015 Region 5 MVP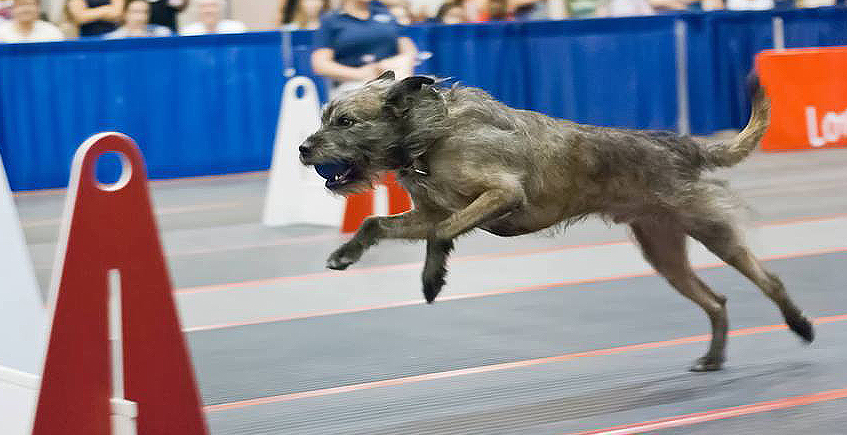 Decker
CRN: 080773
Breed of Dog: Mix
Dog's Club Affiliaton: C.I.A.
Owner of the Dog: Kate Harward
Nomination by Sheri Leavitt:
Decker started off life for the first 18 months living at Citizen's for Animal Protection (CAP). The staff would take him out for short walks on a leash a couple of time a day.
Many of the staff didn't like taking him out because of his behavior, but Kate saw something special in this boy and took him home. Kate started training Decker in Flyball at a time when CIA didn't have enough dogs to make a team for a tournament.
With Kate's patience in training, Decker became a mainstay for CIA teams and it was not uncommon for him to run on two teams so that all the dogs had the opportunity to run Flyball. Decker's first tournament was February 14, 2009 and he is the first dog that started with CIA to earn 30,000 points.
Because of this we feel that Decker and Kate deserve to be the Region 5 MVP. Pate Mapes, CIA Sheri Leavitt, K9-Kommotion
---
NAFA 2014 Region 5 MVP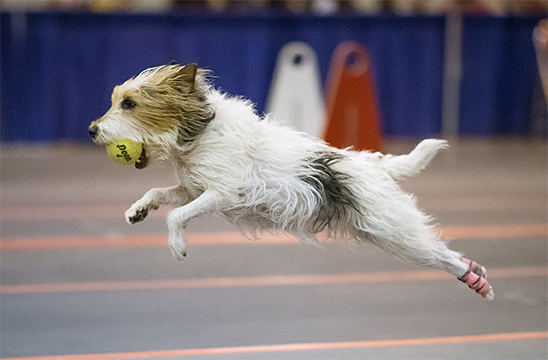 Texas Jack Liberty Belle (Liberty)
CRN: 071064
Breed of Dog: Jack/Parson Russell Terrier
Dog's Club Affiliaton: DogzRule!
Owner of the Dog: Danielle Prince
Nomination by Lauren Noland:
I think most of you might know Miss Liberty-Belle. After all she's been seen on TV commercials and in magazine ads..currently being the cutest model for Neiman Marcus' Cusp Magazine.
But the reason "We" love this prissy little Jack is when it comes to flyball she is all business. You wind her up with a little cheese, put her on the 15 foot line, and let her rip. She will run any position, with any handler, and literally never comes back without her ball. She has patiently taught many dogs and handlers the art of a nose to nose pass.
She will fearlessly pass into new dogs over and over until they are confident enough to pass the larger dogs. And she makes a new handler feel the thrill of achieving their first "check" pass. What a special girl she is! From prissy actress to determined Tom·boy she does her job.
Liberty has earned her Onyx and is a valuable asset to Dogz Rule! and all of region 5. She deserves MVP. Please vote for Miss Cuteness...Texas Jack Liberty-Belle.
Photo by Ambient Photography.
---
NAFA 2013 Region 5 MVP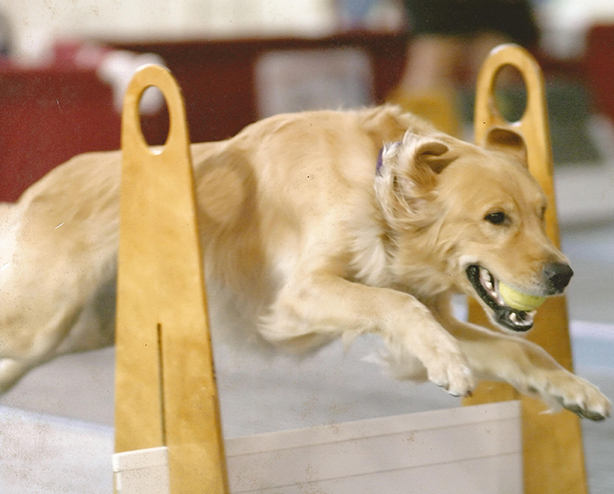 LJ
CRN: 040537
Breed of Dog: Golden Retriever
Dog's Club Affiliaton: Texas Twisters
Owner of the Dog: Richard McClellan
Nomination by Mike Smith:
All of us know that there is that one dog, that someone special, that only comes across once in a lifetime. For RJ "Mack" McClellan, that dog has been LJ, his beloved Golden Retriever.
After LJ's training as a service dog, he headed to the home where he's been loved and cared for ever since. Mack decided that LJ would be a great dog to run in flyball. It took LJ no time at all to pick up the game and he started running in 2004 and earned his FGDCH on June 11th, 2011.
LJ has helped many dogs in his flyball career achieve their own titles as well. He is a rock solid dog in the lanes and all those who have had met LJ know his heart to be pure.
Most, if not all of us have fallen down in the flyball lane from time to time. LJ immediately goes into action helping his beloved owner, Mack, when this has happened in the past. LJ is really a site to see, in the flyball lanes or just in passing. He is everything that makes up an MVP, loyal, loving, and a great flyball racer!
Mike Smith and the Texas Twisters
---
NAFA 2012 Region 5 MVP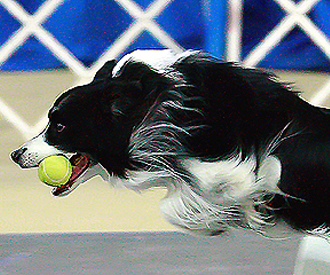 Laser
CRN: 030581
Breed of Dog: Border Collie
Dog's Club Affiliaton: Top Dog Racers
Owner of the Dog: Karen Erz
Nomination by Elizabeth Currin:
Laser, was born to play flyball. There are lots of black and white border collies in Region 5, but I believe Laser loves the sport even more than most.
You can't help but notice Laser in the lanes; yes he's barking like a banshee, but he's also literally smiling! Of all Karen's dogs, Laser was the easiest to train.
At his very first tournament, Laser was supposed to only warm-up, but as it turned out, he ran full time-- flawlessly! Laser has the smoothest, most consistent box turn I've ever seen. It's the lucky person who gets to pass Laser in a line-up. When TDR starts to train new dogs how to pass, Laser and his easygoing attitude make him the go to dog to get the job done.
After 9 years running on Top Dog Racers, Laser now plays with several Region 5 Open teams like ARC and DFA whenever needed. If he's not helping new dogs learn the sport or running on Open teams to help other dogs earn points, this Iron Dog is dreaming about being in the lanes barking, smiling and playing flyball to his heart's content.
Yep, Laser was born to play flyball!
---
NAFA 2011 Region 5 MVP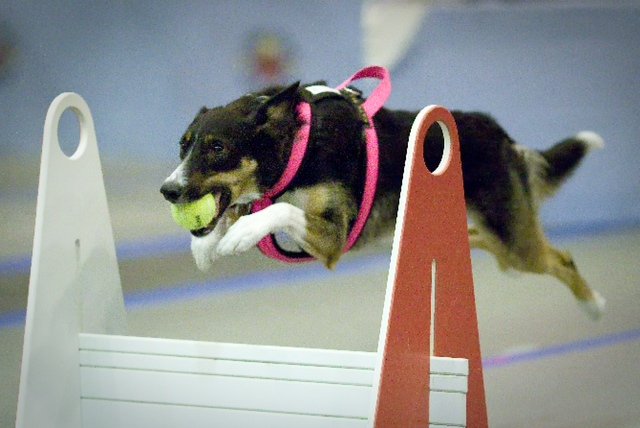 Katy
Breed of Dog: Border Collie
Dog's Club Affiliaton: C.I.A.
Owner of the Dog: Diane Bissell
Nomination by Teresa Turner:
Katy was picked up in a raid, undernourished and afraid, when she was 3 months old. She was taken to a kill shelter which then called Forgotten Friends (a rescue organization).
Forgotten Friends was given an hour to come "get the dog" or she would be put down. After 6 months, Katy was put up for adoption by Forgotten Friends and went to her forever home on October 10, 2005 with Diane. They began Flyball training the very next weekend. The ball, box and pattern were easy, but "do the pattern when you're supposed to" was an issue.
Katy would head for the box then veer off running in circles to visit anyone in her view. At tournaments, she lets everyone know it is almost her turn with incessant barking. She seems to have forgotten that she had to learn the game and is now convinced she invented it. Katy earned her FGDCH at Reliant this year. She runs with several teams and can run in an position, just let her go and she is a happy Border Collie.
---
NAFA 2010 Region 5 MVP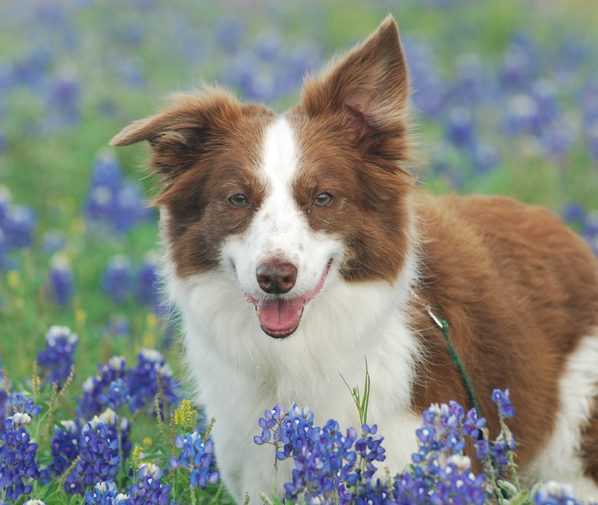 Ginger
Breed of Dog: Border Collie
Dog's Club Affiliaton: K9 Kommotion
Owner of the Dog: Teresa & Chris Turner
Nomination by K-9 Kommotion:
I would like to nominate Ginger for the Region 5 MVP. Ginger came into Teresa's life as an owner surrender at 7 months old. She was a shy and quiet red and white border collie.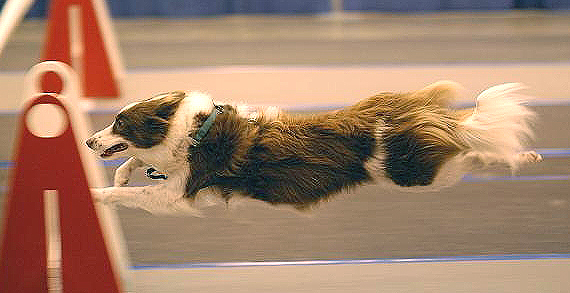 She was slow to embrace flyball. If a loud sound or a yell was heard she would shut down as if she did something wrong. As Ginger's confidence improved so did her speed. She has grown from a fearful, submissive girl to a bossy queen keeping her teammates in line. She is able to run for anyone and in any position.
Ginger will be turning 12 in November of this year and is the fifth dog in our region to earn 50,000 points. Her speed has remained constant, even with age. It truly has been a regional accomplishment that Ginger has earned her 50,000 points as there have been several members from other teams in our region that have run her to help earn these points.
Even at 12 years old, she still wants to go out and run her heart out. Her other hobbies include patrolling for squirrels in the yard and being the play police! She is very good at both.
---
NAFA 2009 Region 5 MVP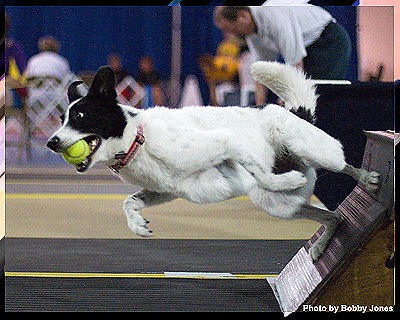 Georgia
CRN: 010106
Breed of Dog: Border Collie
Dog's Club Affiliation: Flat Out Flyers
Owner of the Dog: Nancy Garcia
Nomination By K-9 Kommotion:
Georgia was adopted from Border Collie Rescue in July 1999 at 7 months old. She started out wild and crazy like most border collies but quickly settled down to run with gusto each and every race. Georgia's first tournament was in March 2001. At 10 1/2 years of age, she is still running strong and is currently 184 points shy of her 50K title. Nancy and Georgia have run as a team in Texas, Arizona, Colorado, Tennessee and Oklahoma. They will soon add Indiana for the CanAm Classic this October.
Georgia has grown into the type of Flyball dog that can run any position and pass any other dog no matter how big or tough they are. She has helped train many dogs from Region 5 that are not on the Flyer's club. If teams need help with their dogs not crossing over or with passing, Georgia does not get bothered with them getting in her face. She helps them learn to stay in their lane. We have enjoyed watching Nancy and Georgia in the ring for many years and look forward to many more. They work great as a team. Please consider Georgia for MVP of Region 5.
---
NAFA 2008 Region 5 MVP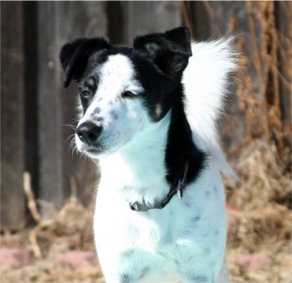 Tri-Hard Top Gun "Pilot"
CRN: 990121
Breed of Dog: Mix
Dog's Club Affiliation: Top Dog Racers
Owner of the Dog: Pam Martin
Nomination by Roberta McClure:
I would like to nominate Pilot of Top Dog Racers, for Region 5 MVP. Pilot has raced the entire 9+ years of his flyball career on Chain Reaction (Top Dog Racers' A Team), running as the sole height dog for a good portion of that time.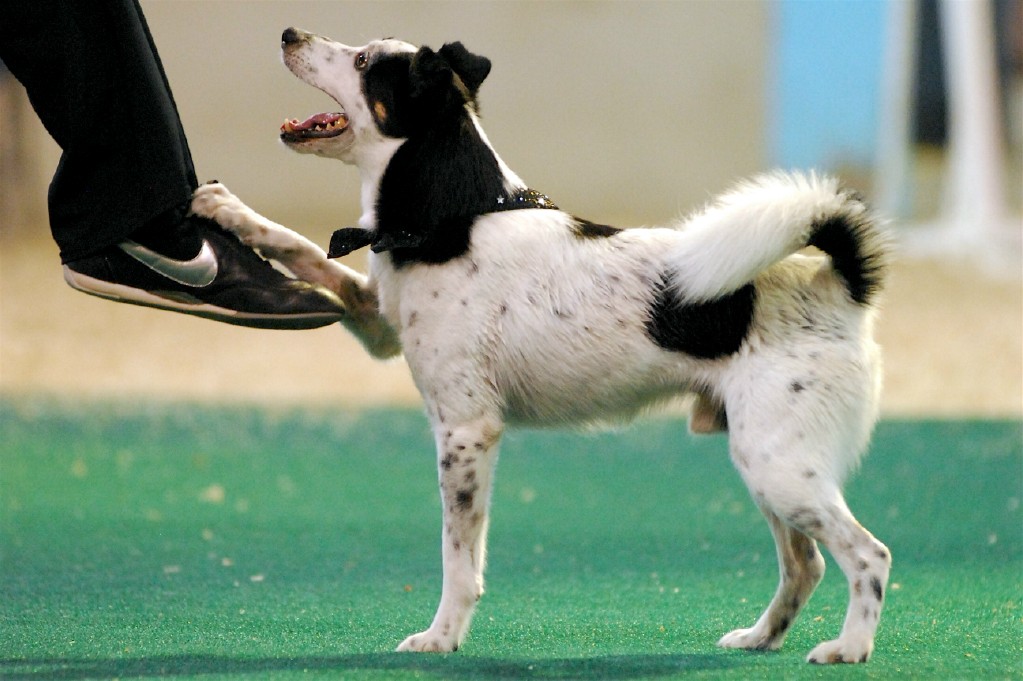 Pilot changed the face of flyball in Region 5, introducing the region to a small dog who could run in the 3.9's and 4.0's. He also changed the "look" of flyball in Region 5 as one of the first Border Jack mixes in Texas. He has always been a crowd pleaser, and it could often be heard when he was running, "… what kind of dog is that."
With Pilot on the team, Top Dog Racers were able to achieve some amazing things such as becoming 2002 NAFA Champions, breaking into the 16's, and then the 15's, and achieving a 1st Place finish at the World Cynosports Championship in 2007! Pilot considered retirement when he reached his 50,000 point mark, but decided he wasn't quite ready to give up the excitement of flyball competition yet.
---
NAFA 2007 Region 5 MVP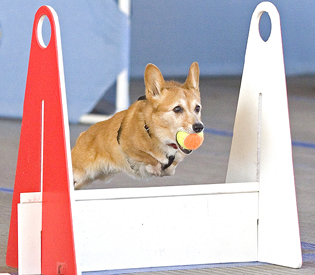 Heidi
CRN: 980071
Breed of Dog: Pembroke Welsh Corgi
Dog's Club Affiliation: Flat Out Flyers
Owner of the Dog: Tracy Bunker
Nomination by Nancy Garcia:
Heidi (aka Amarillo by Morning), a diminutive, red Pembroke Welsh Corgi, was the heart of the Flat Out Flyers flyball club for many years.
Heidi retired in January 2007 at 14 ½ years old, after achieving her FGDCH title. She might be a small dog but she ran with a big heart and was a very commanding presence on any team!
Heidi never failed to give 100%, at local tourneys or on the road. And just because her owner, Tracy Bunker, couldn't attend a tournament, it didn't mean that Heidi stayed home. The little corgi traveled with the club to Tennessee, Colorado and various places in Texas; running for anyone, as long as that anyone had her treat bag in hand. Heidi would run in any position and while the mistakes were rare, she would be the first to tell you, they were generally never her fault!
Heidi has shown that these little herding dogs also make great flyball dogs. Heidi always served Region 5 as a great ambassador for the sport of flyball, never failing to be a crowd favorite in any flyball arena.
---
NAFA 2006 Region 5 MVP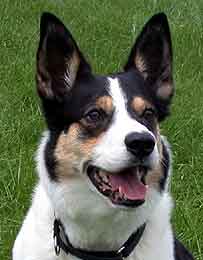 Dillon
CRN: 960885
Breed of Dog: Border Collie
Dog's Club Affiliation: Texas Heat
Owner of the Dog: Mary Fairbairn
Nomination by Texas Heat:
Dillon, a member of the Fairbairn Family, Mary, Michael, and John, began his flyball career in 1996, and ran his first race in 1997. Dillon has shared the lanes with Region 5's finest for almost a decade.
Dillon's first competitive runs were in a "Fastest of the Fast" competition in Las Vegas against dogs from Animal Inn, Rude Dogs, and Touch n Go. This big puppy wasn't quite sure what he was doing, but he won the competition and the respect of all. Dillon was one of the first 3.9/4.0 dogs in Region 5. He was a member of the fast Top Dog teams of the late 1990's and was on Texas Heat's first 16 second team in 2001.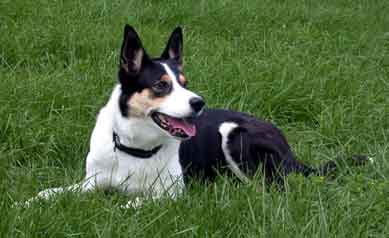 Dillon is the true foundation dog for Texas Heat. He has been an integral part of the training of every puppy and every human trained as a member of Texas Heat. Dillon's presence and confidence has positively influenced all of the puppies he has helped train. Dillon was equally as valuable training new handlers. Dillon's steadiness allowed them to focus only on their responsibilities. Dillon's many accomplishments and contributions for the past decade make him a worthy candidate for Regional MVP.
---
NAFA 2005 Region 5 MVP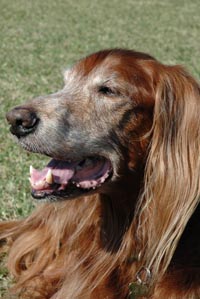 Sampson
CRN: 930186
Breed of Dog: Irish Setter
Dog's Club Affiliation: K9 Kommotion
Owner of the Dog: Teresa Turner
Nomination by Michele Ladrach:
It's hard to think of Region 5 Flyball without seeing a big red Irish Setter running and jumping as fast as he could over the Flyball jumps. Sampson ran Flyball from July 1993 until September 2004. He was hard to miss, with that beautiful mahogany coat. Everyone knew him and he knew everyone. Sampson never knew a stranger. At age 13, he's now retired.
Sampson's Flyball career started with CDTC, continued with Texas Tornados, and when they disbanded, Sampson joined and concluded his career with K9 Kommotion. "Sammy" mentored all of the dogs currently running on our team. He was extremely consistent, whether as the start dog, running second or third or as a fast anchor. He ran his heart out for his "human" Teresa, but anyone on the team could run him. He was the heart and soul of our team.
Sampson achieved the title of FGDCH with 32,378 career points. He was the first Irish Setter to achieve the titles FM through FGDCh, and is the only Irish Setter to achieve FMCh to FGDCh titles. Sampson was and still is an outstanding ambassador for Flyball and deserves to be Region 5 MVP.
---
NAFA 2004 Region 5 MVP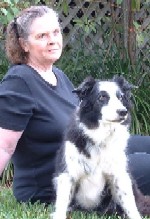 Mandy
CRN: 940876
Breed of Dog: Border Collie
Dog's Club Affiliation: Just Say Go!
Owner of the Dog: Daurece Cox
Nominating Club: Just Say Go! 246
Nominating Club Owner: Daurece Cox
1504 Holly Circle
Richmond, TX 77469-4215
Nomination by Just Say Go!:
I would like to see Mandy, a ten year old Border Collie handled and loved by Daurece Cox of Just Say Go!, be made the MVP for Region 5. She is the foundation and the most versatile dog on our team; a dog that can start, pass and run anchor.
She has taught the new dogs on our team to pass and has been invaluable in teaching dogs who have lost their confidence in passing to learn the game of flyball again. The dogs that Mandy has helped have become great racers with the confidence to play the game, due to her no-fuss attitude. I have never seen a dog dislike or feel threatened around Mandy.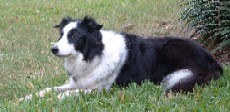 She is a true and confident athlete that plays the game without distraction. On the track she gives her handlers 110%, whether or not it is her owner behind her. She has been racing in flyball since June of 1995 and in March, achieved her FG40K with no signs of stopping. Her Border Collie smile and desire to race are always ready and there is no slowing down for the MVP of Just Say Go!
---
NAFA 2003 Region 5 MVP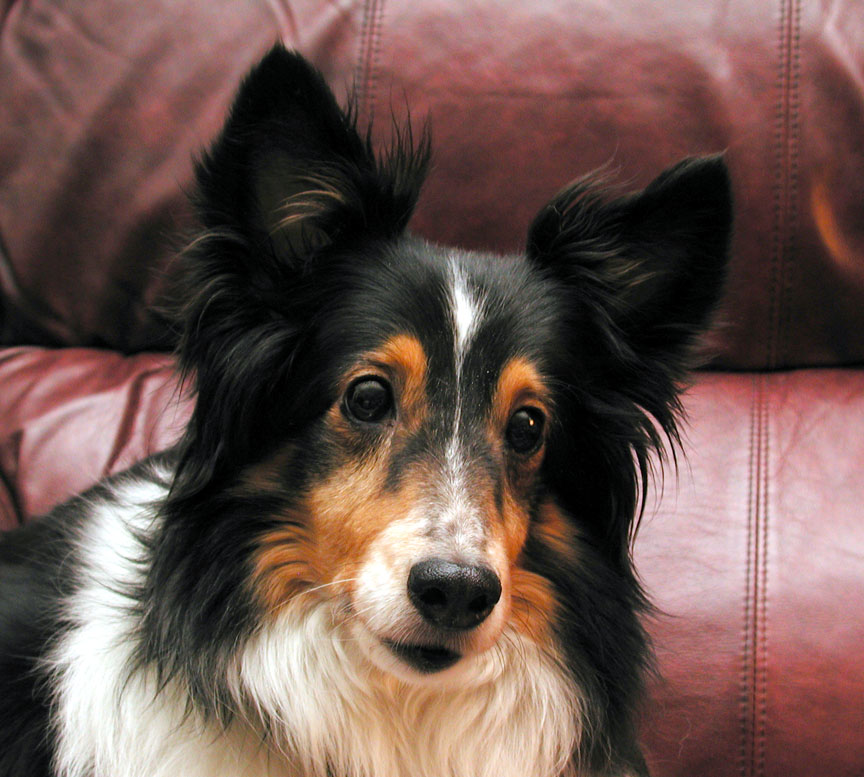 Samantha Sunshine
Nominating Club (#): Lone Star Ruffnecks (406)
Dog's Name (#), Breed: Sami (950728), Shetland Sheepdog
Dog's Owner: Stephanie Rudisill
Dog's Current Club Name (#): Lone Star Ruffnecks (406)
Clubs Raced with: Lone Star Ruffnecks
Nomination:
I'll try for a moment to tell you about Sami. She was a wonder height dog. Small, standing only 13" tall, but big enough to carry a flyball team tournament after tournament. Many a time we traveled hundreds and thousands of miles with only one height dog in the line up. Time and time again she held up when others had to quit.
Many titles including ONYX have come her way but she earned more than just those by always being there for others. If you counted the titles of teammates she carried over her career, Sami wold have earned multiple Onyx's, and a couple of FGDCH's and that doesn't even count the numerous beginners she helped along the way.
Samantha was more than just a flyball dog; she was a teacher too. She opened our hearts, taught us about great dogs, and opened her home to many a homeless border collie. For Sami, always room for one more to stay for a while.
But tonight I remember the giant small Sheltie that helped us all. From California to Florida. Texas to Detroit, Sami has been with us and in fact she will be with us whenever we run.
Home | Region 5 Calendar | Region 5 MVPs | Region 5 Flyball Groups.io | Links
NAFA® Home | NAFA® Database | NAFA® News! | NAFA® Patches | Webmaster